Fibreline is ATASDA's own magazine emailed to ATASDA members 4 times per year.
Our magazine features artist profiles, member profiles, details of events, exhibitions, a range of interesting tips and National and Branch updates.
The Fibreline team welcomes written and photographic contributions from members who:
travelled in pursuit of their art
attended unusual or inspiring workshops that may interest others
came across textile or surface design museums or galleries in unusual places
received a grant and shared their learning experiences from their chosen activity
are happy to share the story of their art practice
attended any stand-out events or exhibitions.

'A picture tells a 1000 words' so members can send in photographs with a couple of sentences of explanation. It might be a work in progress, an entry in a competition, the results of completing an online course - the team would love to see them all. Please email submissions and enquiries to This email address is being protected from spambots. You need JavaScript enabled to view it..
Textile or surface design businesses
Wish to advertise textile - related business to ATASDA members for a very reasonable rate?
Please contact the Fibreline team. Terms and conditions apply.
Take a look at an extract from a past Fibreline magazine........access to current and other editions in the Members' Area.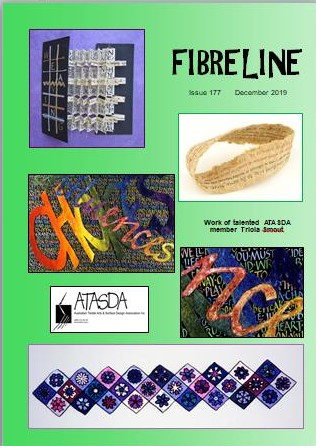 .