Kay Murray - Gelli Plate Printing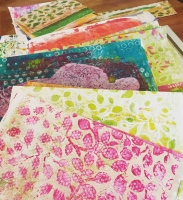 This gelli plate printing workshop will take you into an exciting print experience that is like no other. You will be able to experiment with colour and colour mixing to achieve inspiring effects. In addition, all types of materials will be used to create unique designs in print.
Don't worry if you don't have a gelli plate, you may be able to borrow one or you will be supplied with a recipe to make your own.
Methods explored include nature prints, using masks, creating textural prints, making a collagraph plate, using stencils and stamps as well as image transfer.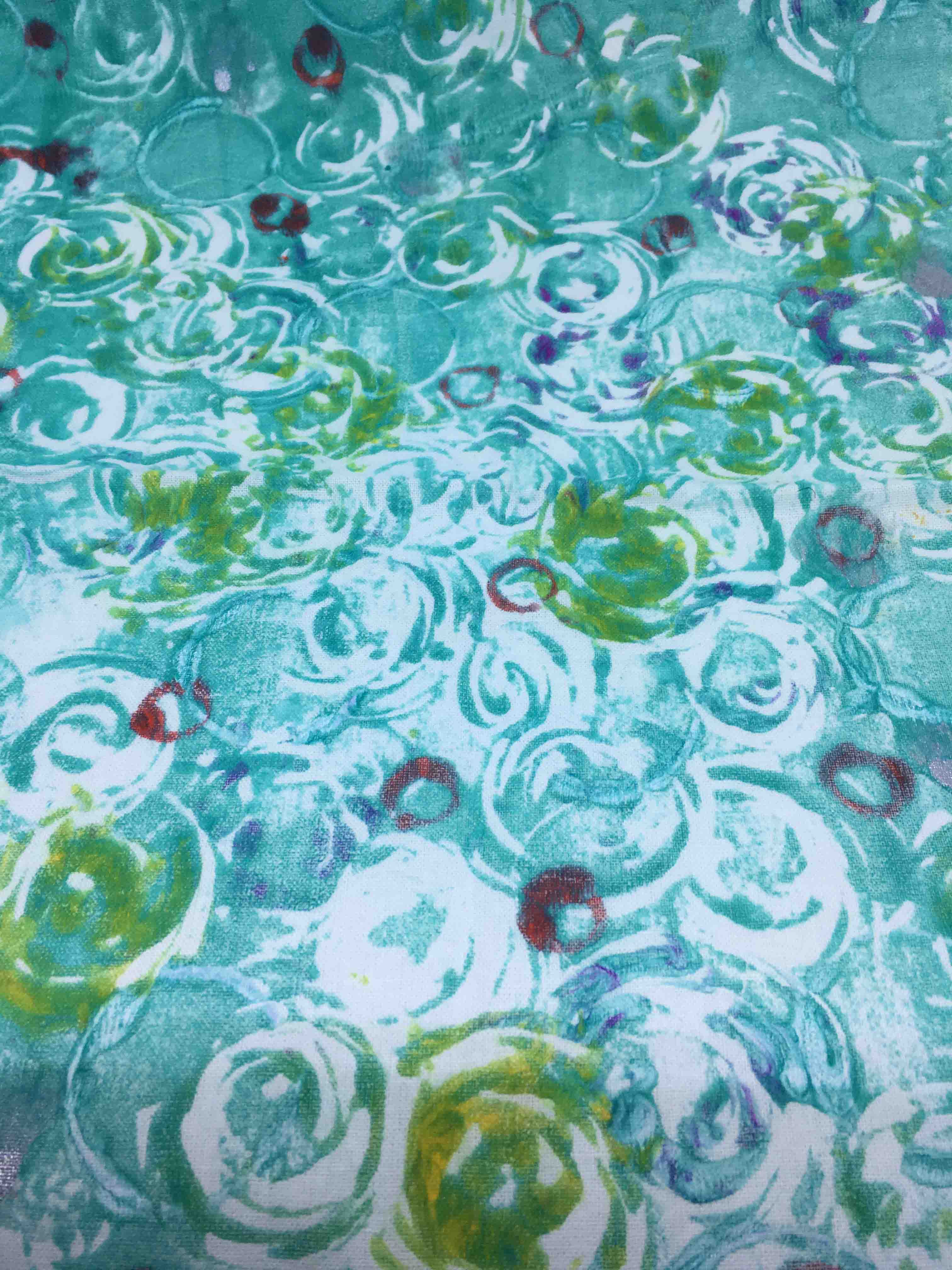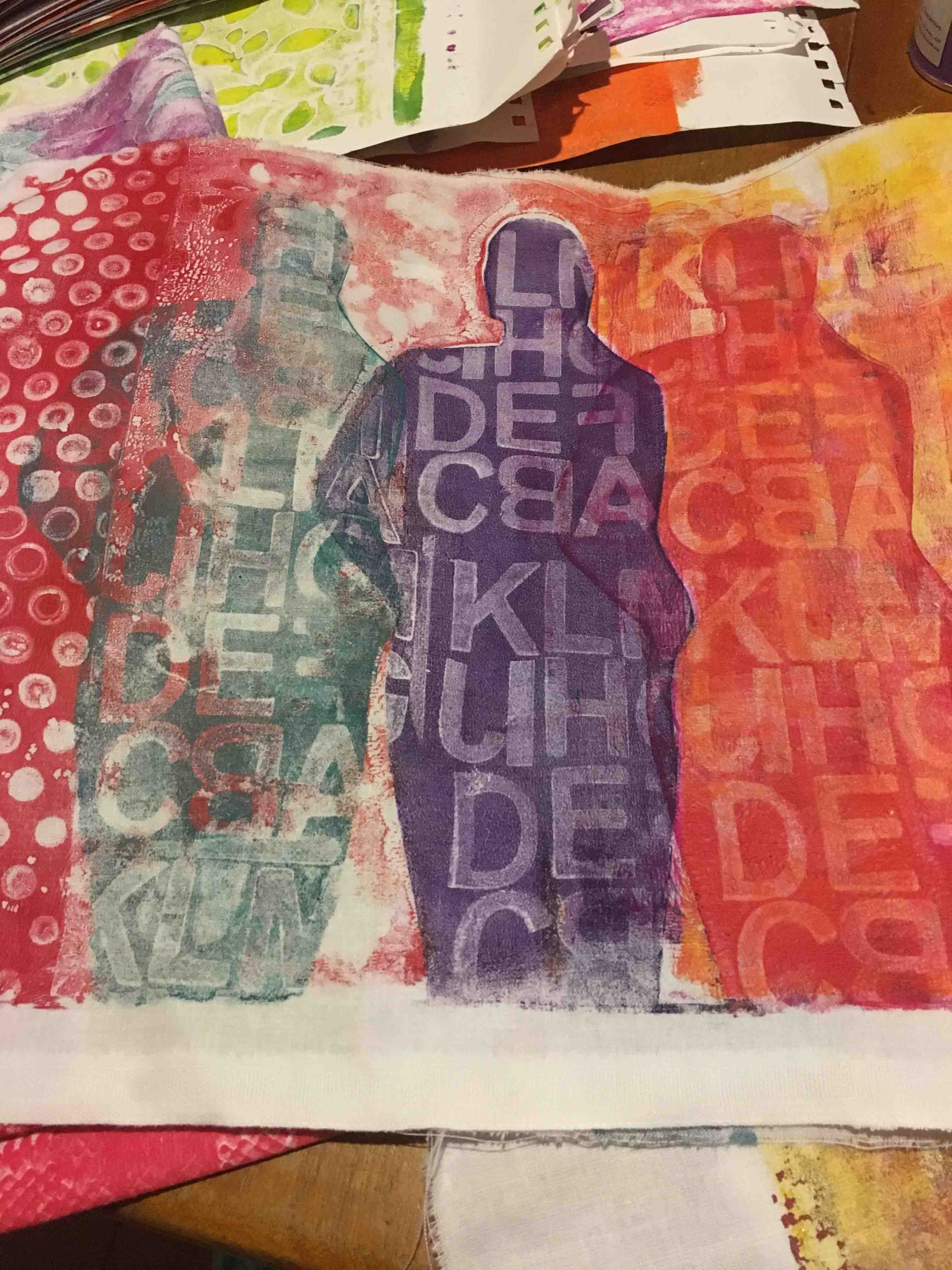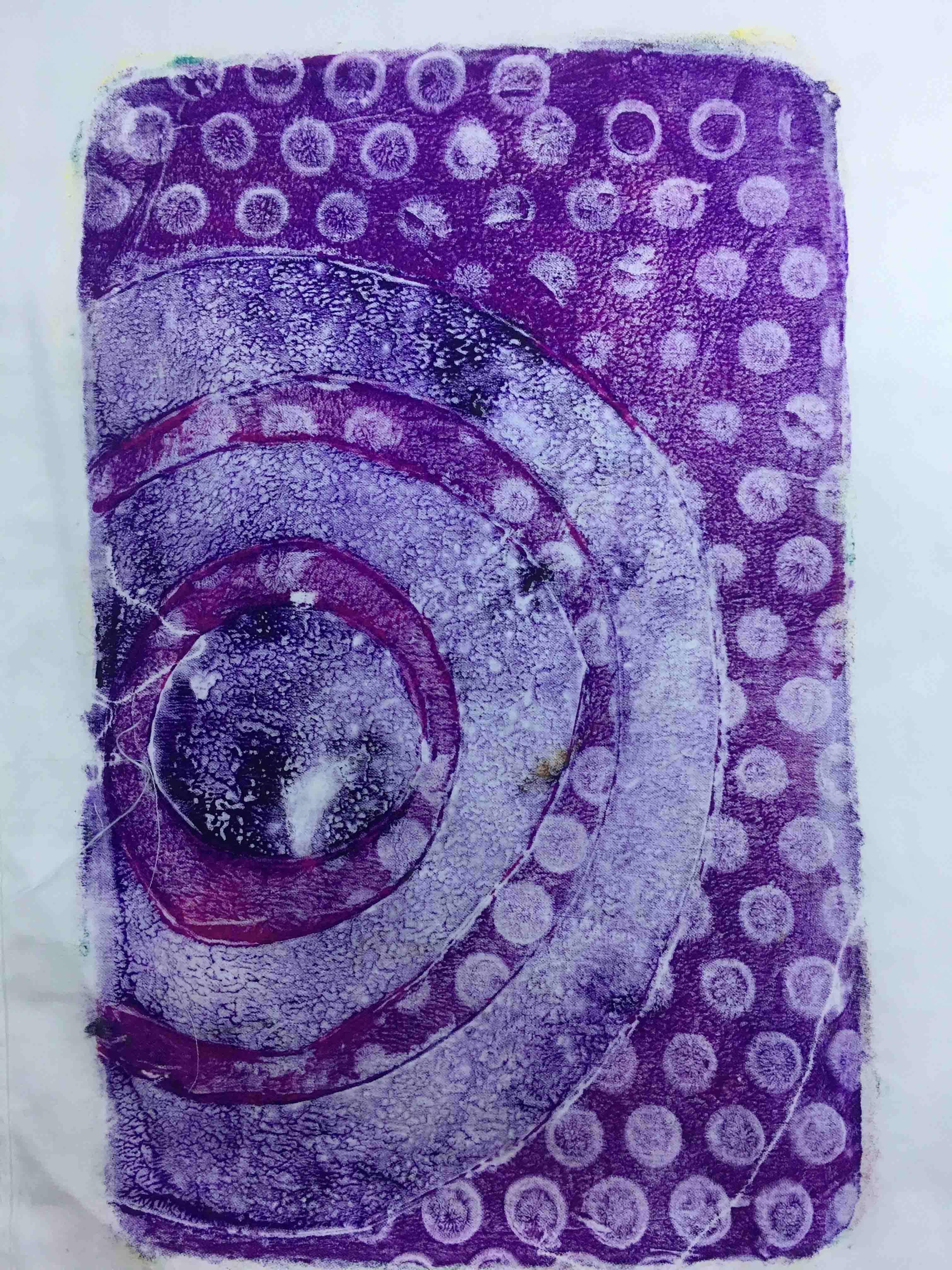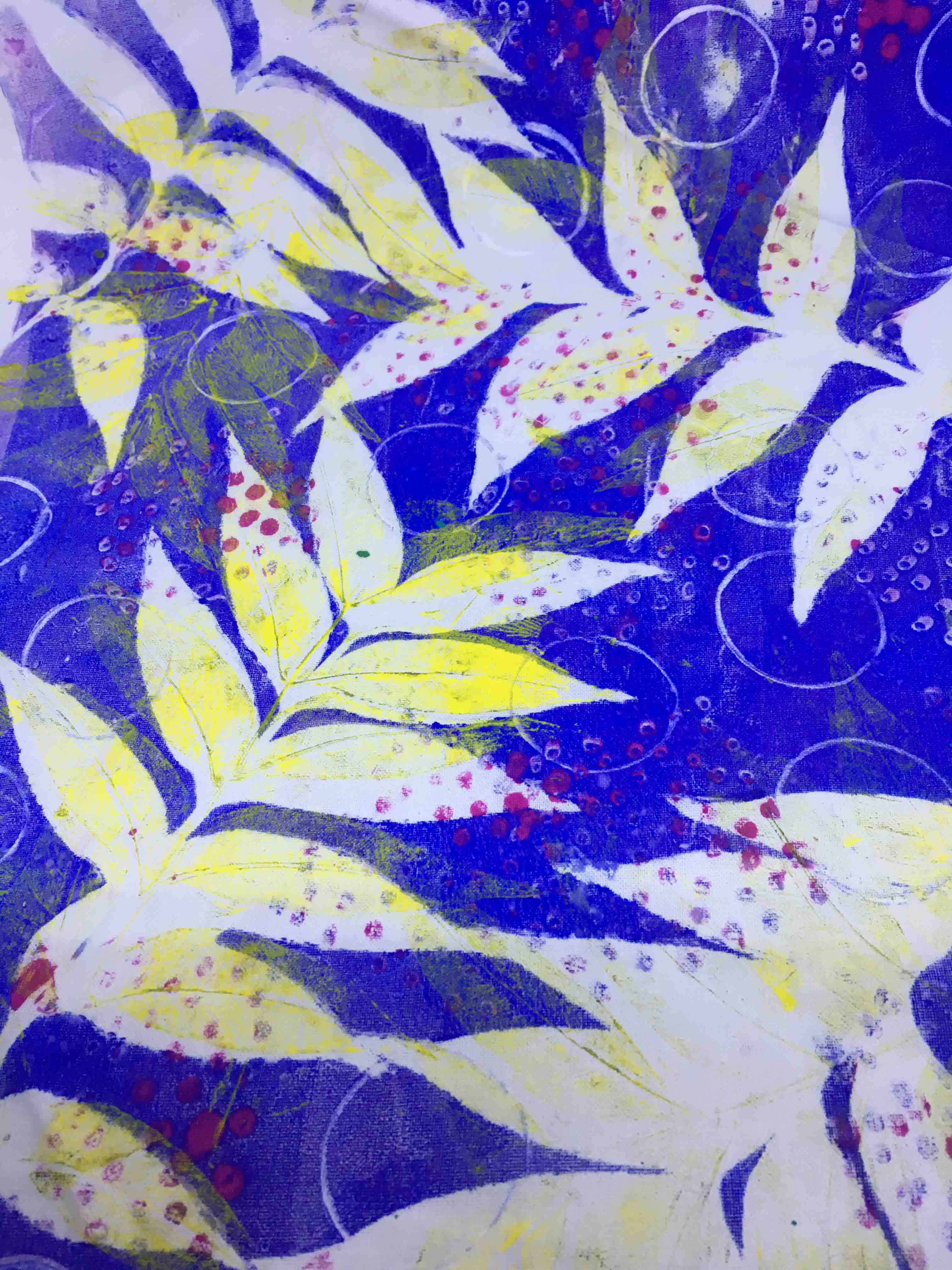 Gelli plate printing is a form of mono printing and no two prints will be the same. It is based on the traditional print method done using a homemade gelatine printing plate and this is still a valid method today despite the modern version using latex plates.
The materials required are not complicated - paper, plain fabric and acrylic paints. There will be a small materials cost. You will be working on both paper and fabric and have the inspiration of lots of ideas of what to do with your creations.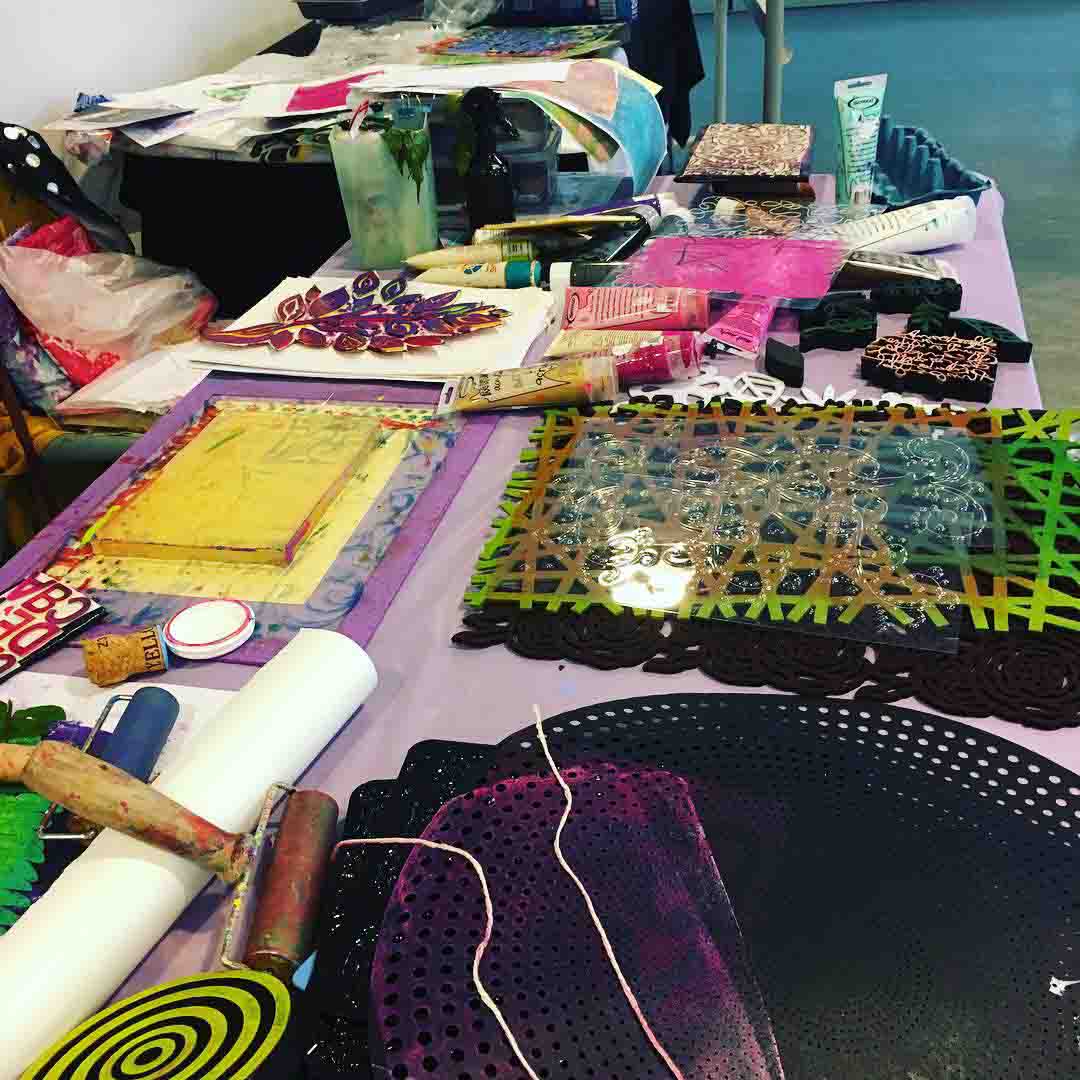 Kay Murray is a textile educator with many years of experience teaching in secondary schools and adult education. She is a practising textile artist being an active member of ATASDA, extraTexture Textile Art and Quilt NSW (Eastwood). She regularly exhibits her work.
Long Arm Quilter & Textile Artist
This email address is being protected from spambots. You need JavaScript enabled to view it.
If you are a current member, you will need to login to book at member prices.
All participants must be double vaccinated, and have no symptoms of COVID, to attend ATASDA events.
Event Details
| | |
| --- | --- |
| Date | Sat 27th May 2023 9:30 am |
| End Date | Sun 28th May 2023 4:30 pm |
| Cut off date | Fri 26th May 2023 |
| Price | ATASDA Members $200 Non-members $250 Materials Fee approx. $10 |
| Location | Epping Creative Centre - Pringle Room |
Workshop Information
Payment information
Materials fee
On the day
Photography
Safety
Special needs
Cancellation Policy
Pay a deposit to secure your place in a workshop as they fill quickly
The deposit of $31 for a one day workshop and $62 for a two day workshop is non-refundable
Remainder of payment is due 4 weeks before the workshop
Non-members pay a higher price for workshops so join now to get the members' rate
Non-members are not included in ballots if the demand is greater than available places
For Textile Tasters, full payment is required when you register.
Material fee to be paid directly to the tutor at the workshop.
On the day
Bring your own lunch and mug, morning and afternoon tea is provided
Please arrive early so you are unpacked and ready to start at 9.30am
Tutors finish teaching at 4pm, so everyone can help with the cleanup. Participants leave at 4.30pm each day.
Photography
We may take photographs during the workshop for use in ATASDA promotional material. If you do not want to be photographed please advise the workshop helper at sign-in.
Before taking photographs for your own records, check with the workshop helper first, as some tutors do not allow photography.
Safety
It is your responsibility to provide any personal protective and/or safety equipment required for the workshop, e.g. safety glasses, facemask, gloves. See workshop requirements list for additional items.
Special needs
Please email NSW Workshops before you book if you have special needs e.g. wheelchair access.
Cancellation Policy
If a workshop is cancelled by ATASDA your workshop fee will be refunded
Can't attend? You may be able to gift your enrolment, please contact NSW Workshops
If you cancel up to 4 weeks prior to the workshop your payments, minus the deposit, will be refunded
If you have to cancel within four weeks of the workshop due to extenuating circumstances, a partial refund may be given, please contact NSW Workshops