Sharon Peoples - Gold thread, feathers and fungi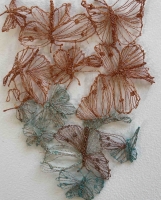 Join Sharon in this exploration of fungi, lichen and feathers using free machine embroidery on water-soluble fabric.
Use metal threads, metallic organza, netting and fabrics to give a lace-like quality to your textiles. Discover the endless possibilities of machine stitch on solvy to create beautiful lacy fabric.
Begin by making fungi and lichen, move on to feathers.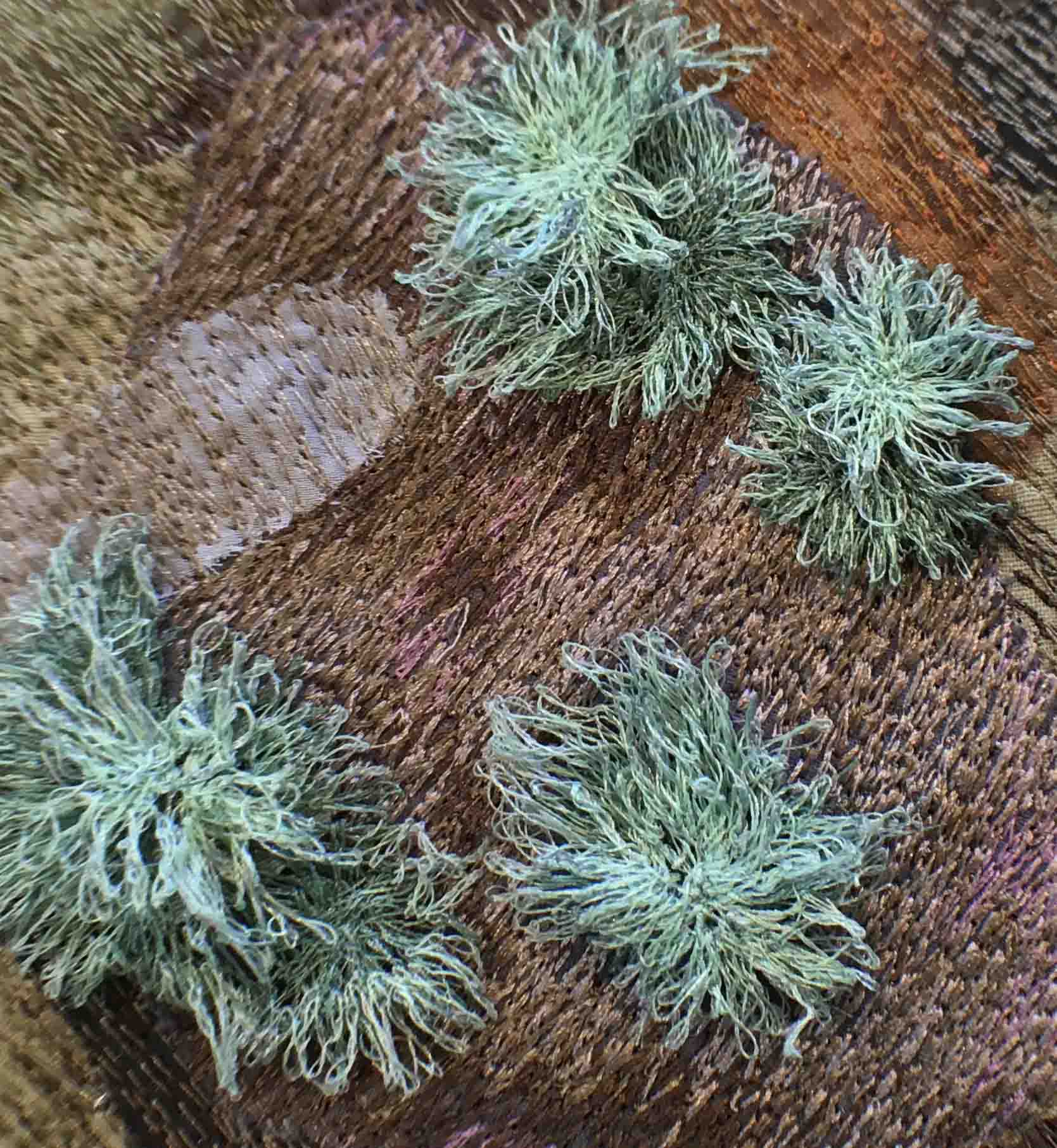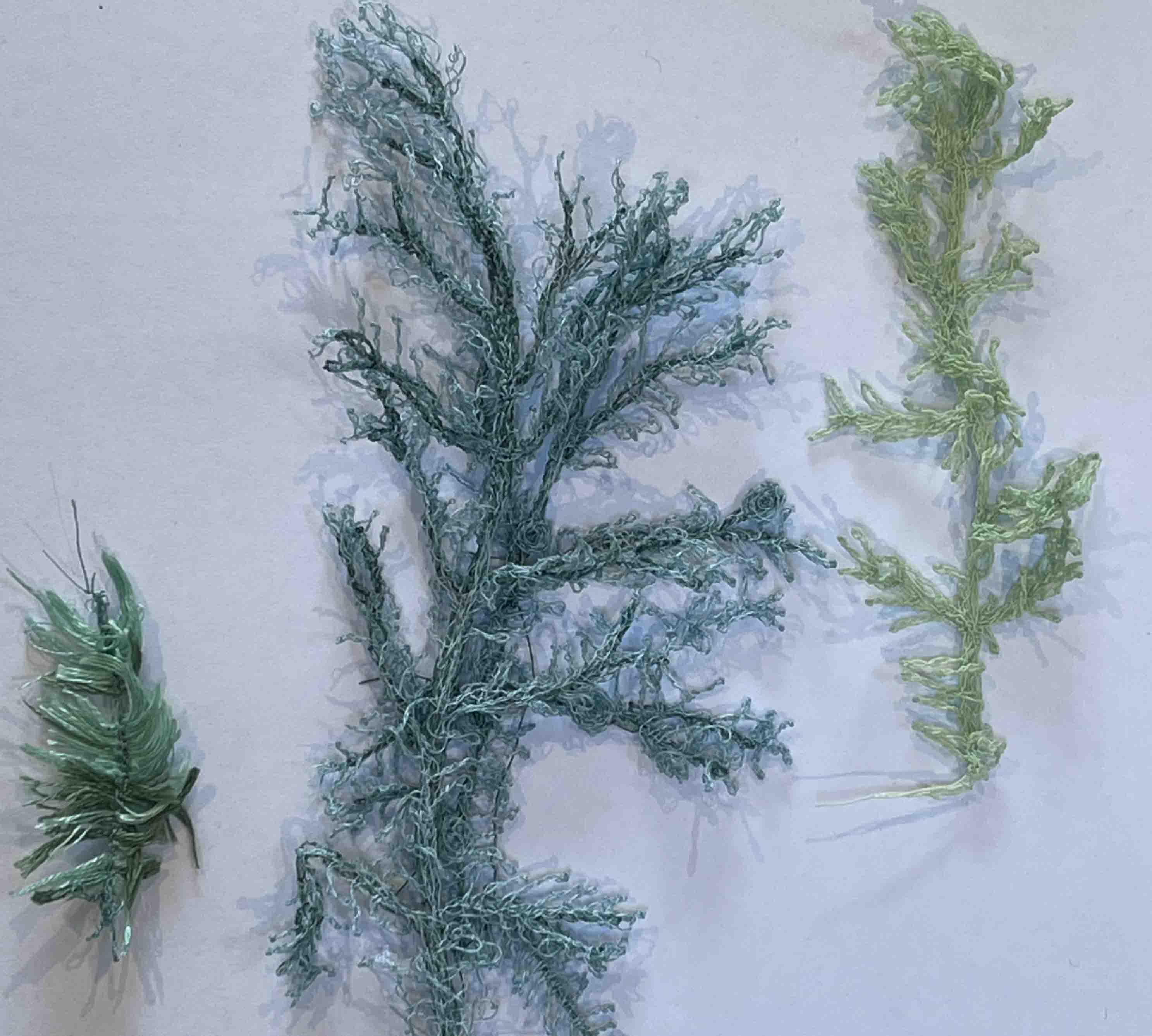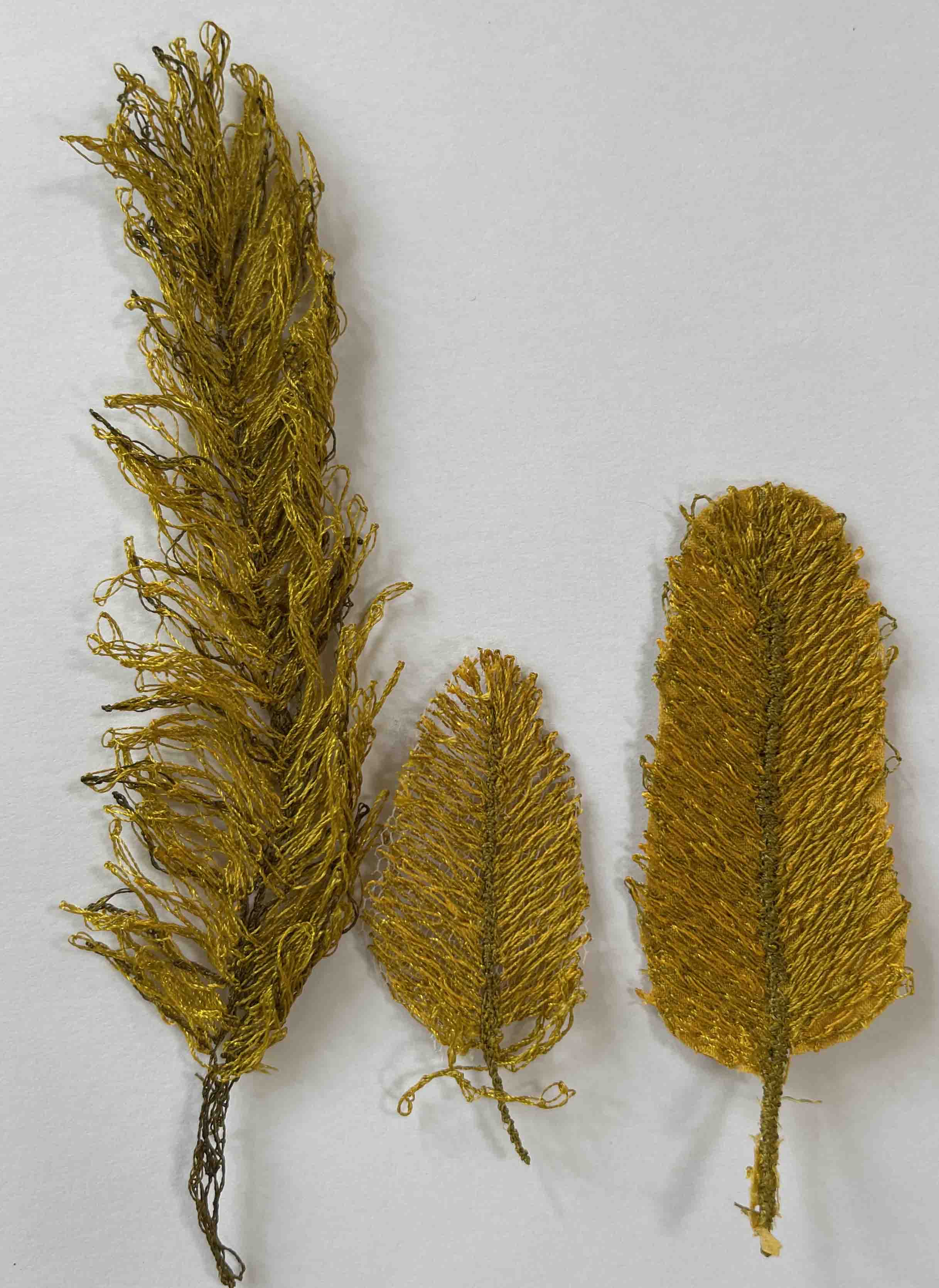 On the second day tackle metal thread embroidery. Sharon takes you on a voyage of discovery as you place metal threads in the bobbin and explore the fabulous results of using a variety of thicknesses of thread. Thicker threads seem to distort more, but you will love the 3-D effect it creates. This requires working on the wrong side but with careful design and planning this can be achieved and Sharon will guide you through the process. Make layers to create a very rich textile. In the coming months Sharon will be working on peacock feathers which will combine some of the techniques used for you to explore through making. You are welcome to bring your own feathers to try out this technique.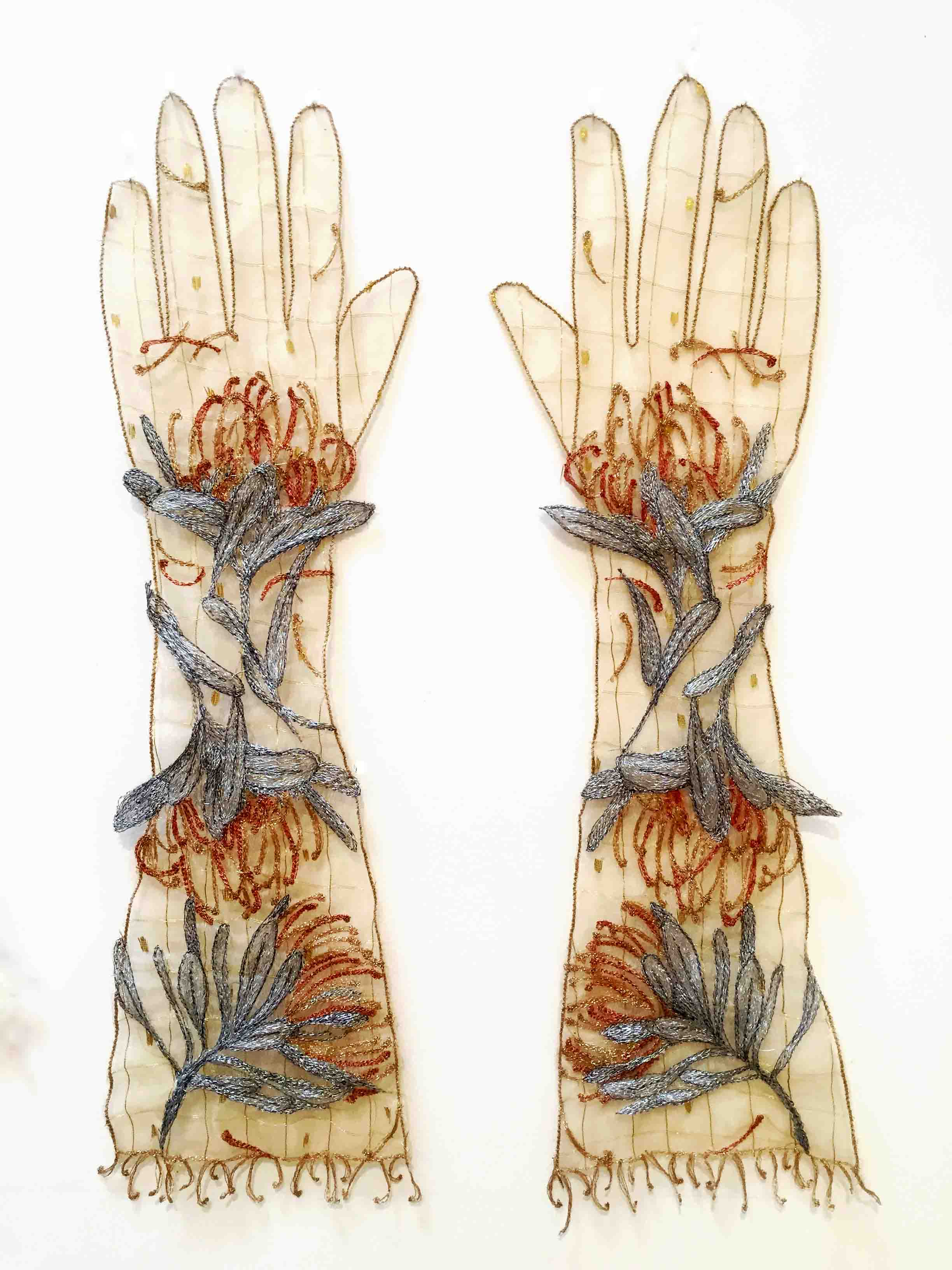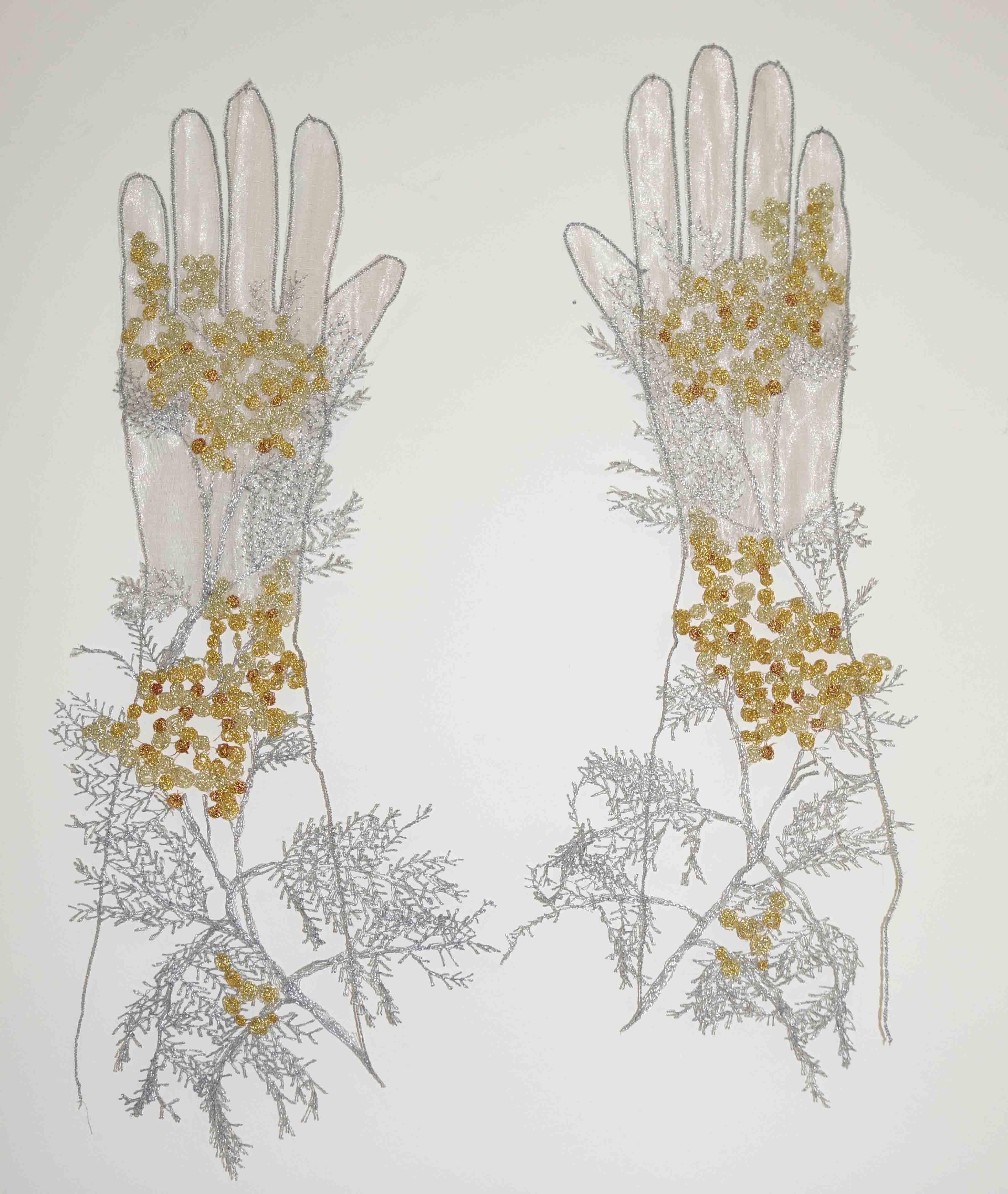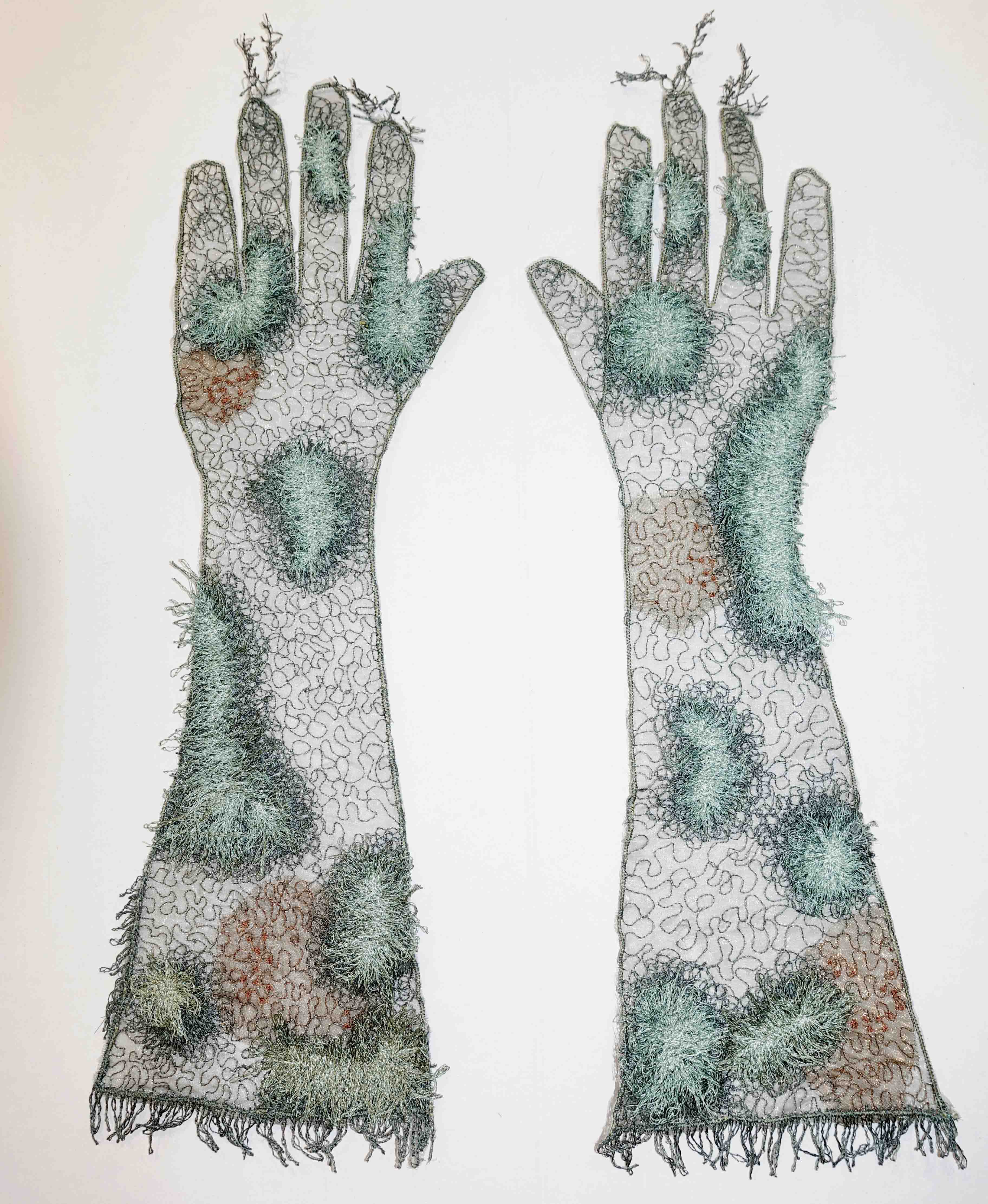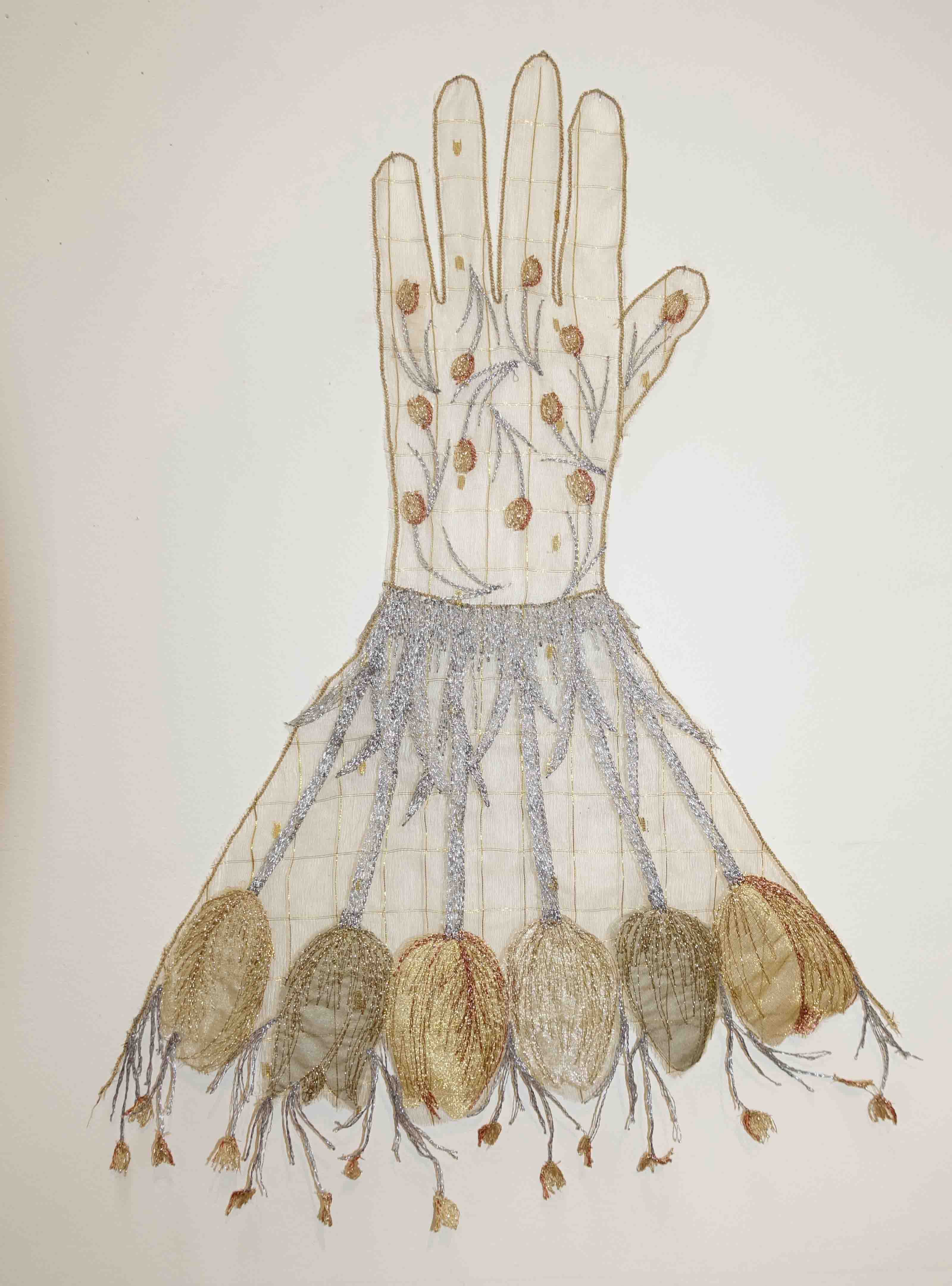 Sharon Peoples is a textile artist based in Canberra, Australia. She has held 10 solo exhibitions since 2010, including Messenger From the Garden, at Timeless Textiles in 2020.
Sharon's work has been shown at group exhibitions including the Society for Embroidered Work's annual exhibition in Rome, in 2021, the Art Textiles Biennale, East Gippsland Art Gallery, 2021 and the Australian Fibre Art Award in Sydney, 2021. In March 2020, one of her portraits was featured on the cover of the Australian magazine Textile Fibre Forum #137.
Sharon is a keen gardener in Canberra's somewhat harsh environment and loves the birds that come and chat in her garden. In recent years she has been exploring gardens through portraits: the inner secret garden, artists' gardens and gardens of the imagination. Fragility of both the environment and the human condition is reflected in the medium: oscillating between hand and machine embroidery to examine this state. Also, in thinking of very large historic embroideries, such as the Bayeux Tapestry, the marks of stitchers, restorers and menders stand to illustrate the repair, care and protection that is required for the environment. She uses her work, embroidery, as a metaphor for repair.
Website: www.sharon-peoples.com
Instagram: @sharonpeoplesstudio
If you are a current member, you will need to login to book at member prices.
All participants must be double vaccinated, and have no symptoms of COVID, to attend ATASDA events.
Workshop Information
Payment information
Materials fee
On the day
Photography
Safety
Special needs
Cancellation Policy
Pay a deposit to secure your place in a workshop as they fill quickly
The deposit of $31 for a one day workshop and $62 for a two day workshop is non-refundable
Remainder of payment is due 4 weeks before the workshop
Non-members pay a higher price for workshops so join now to get the members' rate
Non-members are not included in ballots if the demand is greater than available places
For Textile Tasters, full payment is required when you register.
Material fee to be paid directly to the tutor at the workshop.
On the day
Bring your own lunch and mug, morning and afternoon tea is provided
Please arrive early so you are unpacked and ready to start at 9.30am
Tutors finish teaching at 4pm, so everyone can help with the cleanup. Participants leave at 4.30pm each day.
Photography
We may take photographs during the workshop for use in ATASDA promotional material. If you do not want to be photographed please advise the workshop helper at sign-in.
Before taking photographs for your own records, check with the workshop helper first, as some tutors do not allow photography.
Safety
It is your responsibility to provide any personal protective and/or safety equipment required for the workshop, e.g. safety glasses, facemask, gloves. See workshop requirements list for additional items.
Special needs
Please email NSW Workshops before you book if you have special needs e.g. wheelchair access.
Cancellation Policy
If a workshop is cancelled by ATASDA your workshop fee will be refunded
Can't attend? You may be able to gift your enrolment, please contact NSW Workshops
If you cancel up to 4 weeks prior to the workshop your payments, minus the deposit, will be refunded
If you have to cancel within four weeks of the workshop due to extenuating circumstances, a partial refund may be given, please contact NSW Workshops