NSW Quarterly Meeting & Christmas Party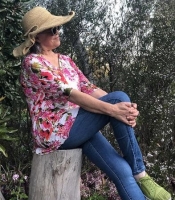 Come to the quarterly meeting and Christmas Party and feed your textile enthusiasm.
Guest speaker Kathleen Berney will talk about her journey with textiles... from when she was given a tjanting as a young teenager... to a phone call from Inga Hunter in her 20's which led to the formation of the Batik Association ( now ATASDA)... and all that has gone on with textiles and clothing and her fashion label through the years. She will bring samples of garments from different stages of her texile and clothing career.
There will be Christmas celebration, games, a new challenge to start on, plus show & tell, library, traders tables, morning tea and good cheer. We ask each person to bring their own lunch and a cup for drinks. Our room capacity is well over 50 now, so we are pleased to be able to hold this year's Christmas function.
Luminaries will be on display. Please bring your finished luminary!
Evidence of double vaccination is required. You may send your proof of vaccination to This email address is being protected from spambots. You need JavaScript enabled to view it. or bring it to the meeting.
Christmas Party and Quarterly Meeting timetable
4th December, 2021
Epping Creative Centre, 26 Stanley Rd, Epping

9.00 Doors open, set up
10.00 Members Arrive, Sign in, library, morning tea, raffle ticket selling, traders trading, meet and greet
10.15 Welcome & Icebreaker Game by Anne Schmitz
10.30 Explanation of Mystery Activity, Show & Tell
11.00 Quarterly meeting
12.00 Workshop launch, traders tables, library
12.30 Lunch and more mingling
1.30 Guest Speaker Kathleen Berney
2.30 Mingling
3.00 Interlude Raffle draw. Mystery activity wrap-up, coffee, afternoon tea, etc
3.30 Pack up for 4.30 lock up