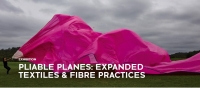 An outing for ATASDA Members to visit UNSW galleries for guided curator-led tours of two exhibitions:
Pliable Planes: Expanded Textiles & Fibre Practices, with curator Catherine Woolley,
and Liz Williamson: Weaving Eucalypts Project, with Liz Williamson
ATASDA is honoured to be offered this very special opportunity to learn, and experience these exhibitions, guided by experts in contemporary and traditional textile arts.
Further information in these links:
https://artdesign.unsw.edu.au/unsw-galleries/pliable-planes
https://artdesign.unsw.edu.au/unsw-galleries/liz-williamson-weaving-eucalypts
Image from UNSW website: Kate Scardifield, 'Canis Major' 2019. 34°53'29.4"S 150°29'60.0"E. Wind instruments and form tests. Studies in semaphore and signalling. Sailcloth, rip-stop nylon, repurposed parachute silk, thread. Image courtesy of the artist, Sydney. Photograph: Robin Hearfield
For Members:
Please use the Register Button. Note that the register button is only visible to logged in members. Registration is appreciated, for an indication of numbers, but is not required.
Meet at UNSW Galleries at 1.45pm for a 2pm start. Corner of Oxford St & Greens Rd, Paddington