NSW Quarterly Meeting & AGM June 2022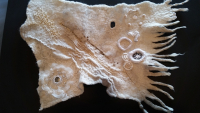 Come to the quarterly meeting and feed your textile enthusiasm. Enjoy Show and Tell, be inspired by the speaker, hear the latest Branch news and connect with textile artists.
Timetable:
9.30 Doors open, Traders set up
10.00 The day starts - Covid checks on entry. Note: BYO lunch
10.15 Welcome, morning tea, library, traders tables
10.30 Some announcements, show & tell
11.00 – ATASDA National AGM
11.20 – NSW Quarterly meeting- update on branch news & member input
12.30 – NSW AGM
1.00 lunch
1.45 – Jo Simpson grant recipient presentation
2.45 Show & Tell, Mingle, Exhibition Expression of Interest Forms, Workshop enrolments.
3.00 Lucky door prize
3.30 Pack up for 4pm finish
Our guest speaker will be Jo Simpson, an ATASDA grant recipient. Hear Jo talk about her journey creating a felted, stitched light vessel for a contemporary stitch course.
How did the surface features of Venus influence her work? How was the light incorporated? What techniques were used?
Come and see her work, her process journals and many samples done on the journey.



Registration is appreciated but not compulsory.
COVID-SAFE INFORMATION FOR THIS EVENT:
Proof of vaccination is required to enter.
There will be no restriction on numbers in each room apart from the limit set by normal operations at ECC i.e. you are limited to the number of chairs in your room.
Masks are not mandatory, but are appreciated.
QR Codes are not mandatory.
Social distancing is not mandated but it is recommended for personal safety where it is possible to do so.
Do not come to the Centre if you have any symptoms of Covid…if you have a fever, if you have a sore throat and/or cough, if you have a runny nose.
Use hand sanitiser in the foyer when you enter the building.
Continue to clean tables, chairs and items in the kitchen that have been used …sink, microwave, fridge
Don't use antiseptic wipes on fabric chairs. Use them only on hard surfaces.