Denise Lithgow - Funky Felting 3D Vessels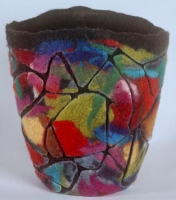 Design and create unique sculptural vessels using merino wool in this inspiring two day creative workshop.
Textile artist Denise Lithgow will guide you through the process of making and moulding felt into innovative forms and shapes. You'll learn how to form shapes and translate these into three dimensional non-functional vessels.
Denise is a textile artist and sculpts with felt. She creates three dimensional objects and two dimensional mixed media artworks. Her works are colourful, vibrant and semi abstracts, which are inspired by her love of the landscape. She continues to search for new forms of expression.
She says "growing up on a sheep property in South Australia has inspired her love of working with Merino Wool."
Enthusiasm and imagination are the best ingredients to bring along to this workshop. We will explore different sculptural forms, colour, design and conceptions of artworks.
In this workshop, a progressive range of skills will be developed, so that the participants feel confident designing their own range of felt vessels. We will use surface decoration such as free form stitching into the felt surface to enhance the pieces.
If you like to take your flat pieces of felt into the 3D realm then this may just be the workshop for you.
Denise Lithgow exhibits her work widely in Australia and Internationally. Her works have been selected for the Canadian World of Threads, Europe and Ukraine contemporary Textile art prizes, and recently she was a finalist in the Wangaratta Petite Miniature Textile and the Australian Artist Textile Awards. She has won many prizes including the Hornsby Sculptural Art Prize and is published regularly at home and abroad.
Denise teaches sculpture workshops at the AGNSW, London, International Feltmakers Association and Portugal www.artinthealgarve.com and throughout Australia.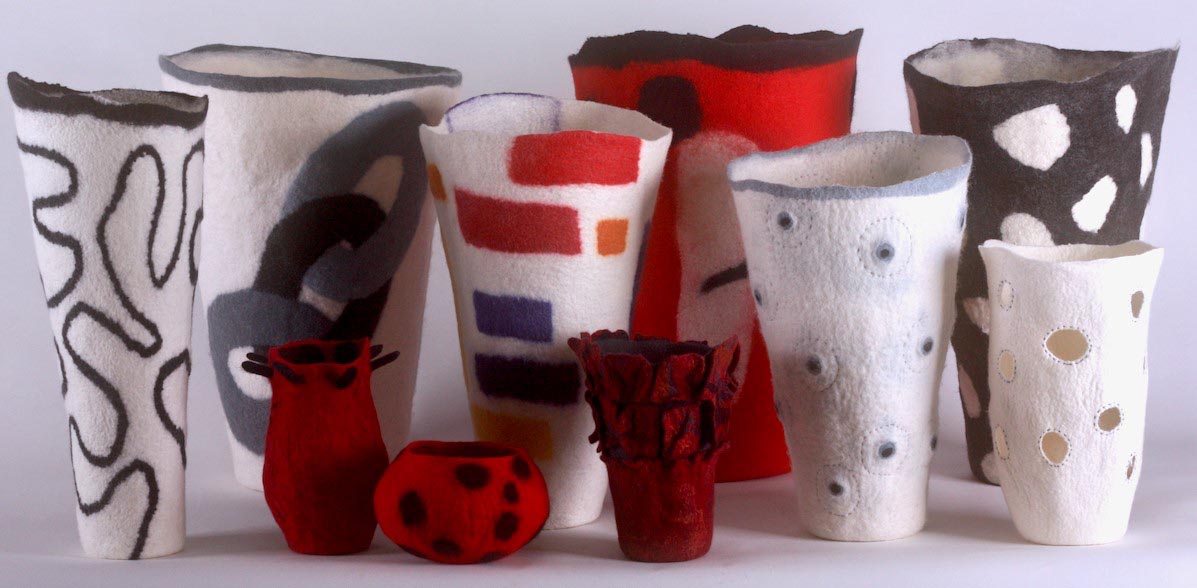 Event Details
| | |
| --- | --- |
| Date | Sat 17th Apr 2021 9:30 am |
| End Date | Sun 18th Apr 2021 4:30 pm |
| Register from | Fri 4th Sep 2020 |
| Cut off date | Sat 3rd Apr 2021 |
| Price | ATASDA Members $180 Non-members $230 Materials Fee $25 or BYO fibre & tools |
| Location | Denise's Studio, Leichhardt |
Workshop Information
Payment information
Materials fee
On the day
Photography
Safety
Special needs
Cancellation Policy
Pay a deposit to secure your place in a workshop as they fill quickly
The deposit of $31 for a one day workshop and $62 for a two day workshop is non-refundable
Remainder of payment is due 4 weeks before the workshop
Non-members pay a higher price for workshops so join now to get the members' rate
Non-members are not included in ballots if the demand is greater than available places
For Textile Tasters, full payment is required when you register.
Material fee to be paid directly to the tutor at the workshop.
On the day
Bring your own lunch and mug, morning and afternoon tea is provided
Please arrive early so you are unpacked and ready to start at 9.30am
Tutors finish teaching at 4pm, so everyone can help with the cleanup. Participants leave at 4.30pm each day.
Photography
We may take photographs during the workshop for use in ATASDA promotional material. If you do not want to be photographed please advise the workshop helper at sign-in.
Before taking photographs for your own records, check with the workshop helper first, as some tutors do not allow photography.
Safety
It is your responsibility to provide any personal protective and/or safety equipment required for the workshop, e.g. safety glasses, facemask, gloves. See workshop requirements list for additional items.
Special needs
Please email NSW Workshops before you book if you have special needs e.g. wheelchair access.
Cancellation Policy
If a workshop is cancelled by ATASDA your workshop fee will be refunded
Can't attend? You may be able to gift your enrolment, please contact NSW Workshops
If you cancel up to 4 weeks prior to the workshop your payments, minus the deposit, will be refunded
If you have to cancel within four weeks of the workshop due to extenuating circumstances, a partial refund may be given, please contact NSW Workshops