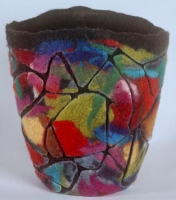 Design and create unique sculptural vessels using merino wool in this inspiring two day creative workshop.
Textile artist Denise Lithgow will guide you through the process of making and moulding felt into innovative forms and shapes. You'll learn how to form shapes and translate these into three dimensional non-functional vessels.
Denise is a textile artist and sculpts with felt. She creates three dimensional objects and two dimensional mixed media artworks. Her works are colourful, vibrant and semi abstracts, which are inspired by her love of the landscape. She continues to search for new forms of expression.
She says "growing up on a sheep property in South Australia has inspired her love of working with Merino Wool."
Enthusiasm and imagination are the best ingredients to bring along to this workshop. We will explore different sculptural forms, colour, design and conceptions of artworks.
In this workshop, a progressive range of skills will be developed, so that the participants feel confident designing their own range of felt vessels. We will use surface decoration such as free form stitching into the felt surface to enhance the pieces.
If you like to take your flat pieces of felt into the 3D realm then this may just be the workshop for you.
Denise Lithgow exhibits her work widely in Australia and Internationally. Her works have been selected for the Canadian World of Threads, Europe and Ukraine contemporary Textile art prizes, and recently she was a finalist in the Wangaratta Petite Miniature Textile and the Australian Artist Textile Awards. She has won many prizes including the Hornsby Sculptural Art Prize and is published regularly at home and abroad.
Denise teaches sculpture workshops at the AGNSW, London, International Feltmakers Association and Portugal www.artinthealgarve.com and throughout Australia.