Roberta Montorfano - The Art of Textile Print & Design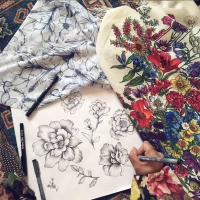 Draw and create your own Textile Print Design, and gain an understanding of the processes involved in the beautiful world of textiles. Step by step you will be guided to plan, hand draw and digitise your design. Play with colour, movement, scale and layout. Use tools in Photoshop to develop and manipulate your unique textile print. Roberta believes everyone can tell stories through designed prints, textures and colours, an artistic expression of yourself.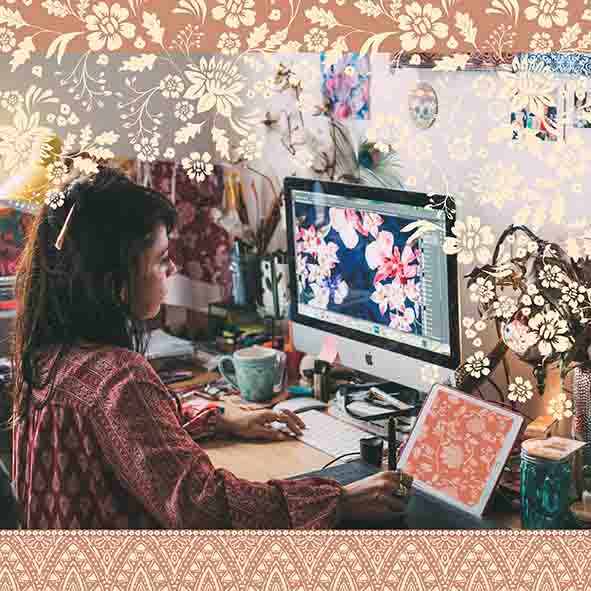 Over 2 days you will develop an overview to understanding the textile design world. Firstly, learn to look for inspiration with a 'textile designer's eye', and gradually transform your ideas into reality. You will learn how to brainstorm your ideas, using mood boards and looking at colour trends and more, to visualise and plan your textile designs. You will be guided by Roberta to create & draw your elements, learning specific drawing techniques that pay attention to outlines, shadows, movement, light - reference books will be available.
Once your elements are ready they will be scanned & loaded onto your laptop. Then, from pen to screen, Roberta will teach technical processes in Adobe Photoshop including how to clean and develop your elements. Use brushes, layers and basic Photoshop tools to manipulate the elements, pattern and dimensions. Delve into quality, resolution, scale, and how to make choices for various textile purposes. Play with colours, filters and layout to finalise your own exclusive artwork.
Laptop required. Materials fee covers Roberta's custom-made instruction booklet.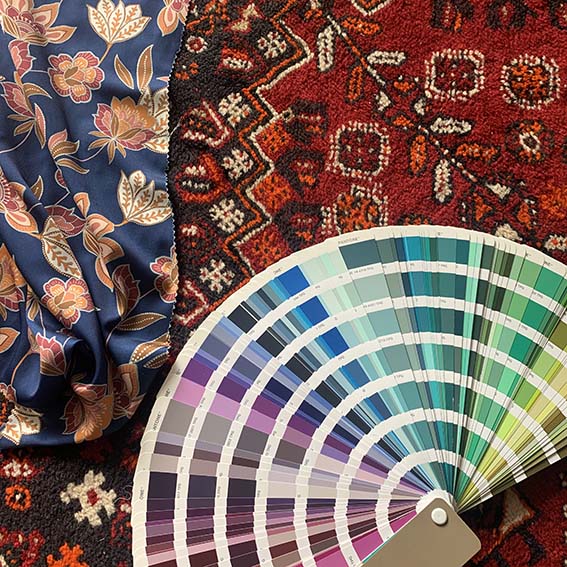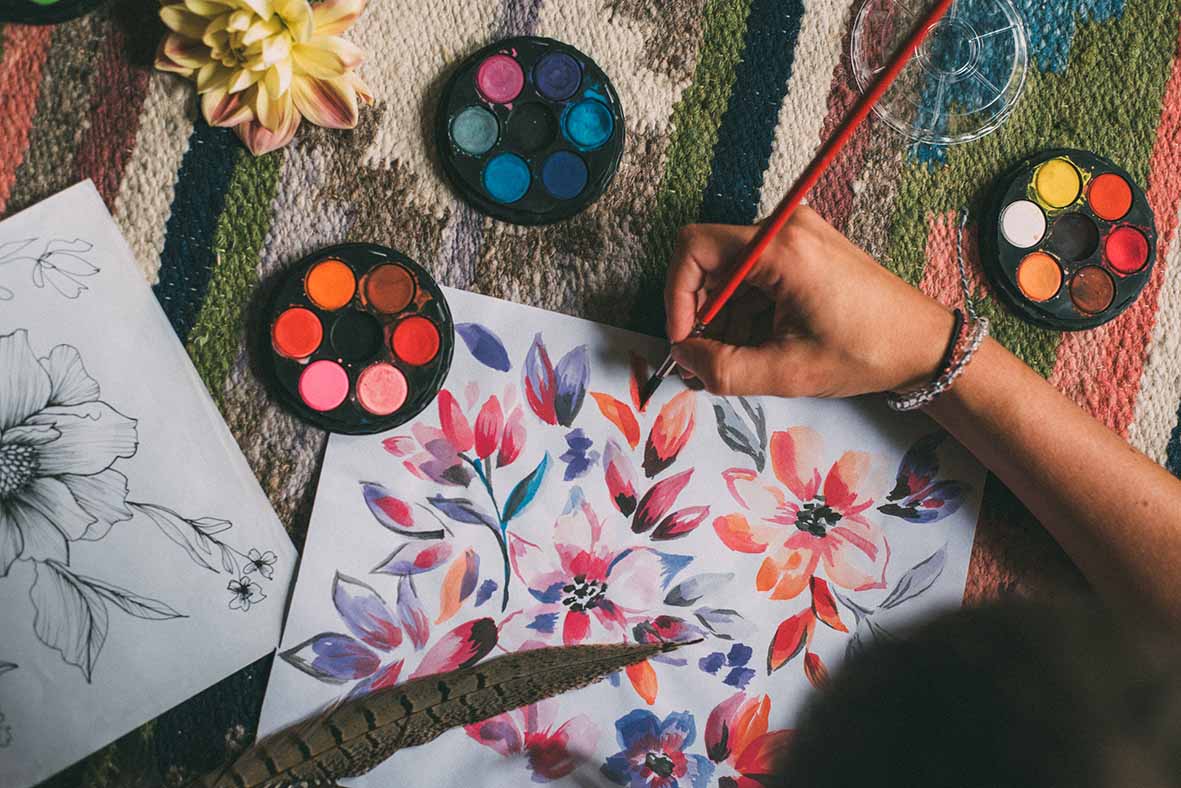 Roberta Motorfano is an Italian-Mexican Textile and graphic designer with 15 years experience, based in Australia but with her heart and mind all around the world. Growing up in Como, the Italian capital of silk, Roberta has been surrounded by colours, textiles, history and art. She creates exclusive prints for local and international fashion brands and homewares. She believes that prints and colours are an essential part in our lives, how we express ourselves.
Event Details
| | |
| --- | --- |
| Date | Sat 22nd May 2021 9:30 am |
| End Date | Sun 23rd May 2021 4:30 pm |
| Register from | Fri 4th Sep 2020 |
| Cut off date | Sat 8th May 2021 |
| Price | ATASDA Members $180 Non-members $230 Materials Fee $15 |
| Location | Epping Creative Centre |
Workshop Information
Payment information
Materials fee
On the day
Photography
Safety
Special needs
Cancellation Policy
Pay a deposit to secure your place in a workshop as they fill quickly
The deposit of $31 for a one day workshop and $62 for a two day workshop is non-refundable
Remainder of payment is due 4 weeks before the workshop
Non-members pay a higher price for workshops so join now to get the members' rate
Non-members are not included in ballots if the demand is greater than available places
For Textile Tasters, full payment is required when you register.
Material fee to be paid directly to the tutor at the workshop.
On the day
Bring your own lunch and mug, morning and afternoon tea is provided
Please arrive early so you are unpacked and ready to start at 9.30am
Tutors finish teaching at 4pm, so everyone can help with the cleanup. Participants leave at 4.30pm each day.
Photography
We may take photographs during the workshop for use in ATASDA promotional material. If you do not want to be photographed please advise the workshop helper at sign-in.
Before taking photographs for your own records, check with the workshop helper first, as some tutors do not allow photography.
Safety
It is your responsibility to provide any personal protective and/or safety equipment required for the workshop, e.g. safety glasses, facemask, gloves. See workshop requirements list for additional items.
Special needs
Please email NSW Workshops before you book if you have special needs e.g. wheelchair access.
Cancellation Policy
If a workshop is cancelled by ATASDA your workshop fee will be refunded
Can't attend? You may be able to gift your enrolment, please contact NSW Workshops
If you cancel up to 4 weeks prior to the workshop your payments, minus the deposit, will be refunded
If you have to cancel within four weeks of the workshop due to extenuating circumstances, a partial refund may be given, please contact NSW Workshops