Kirry Toose - JEANIUS : limited edition Pinafore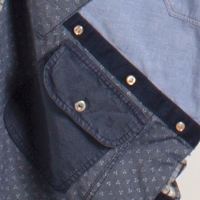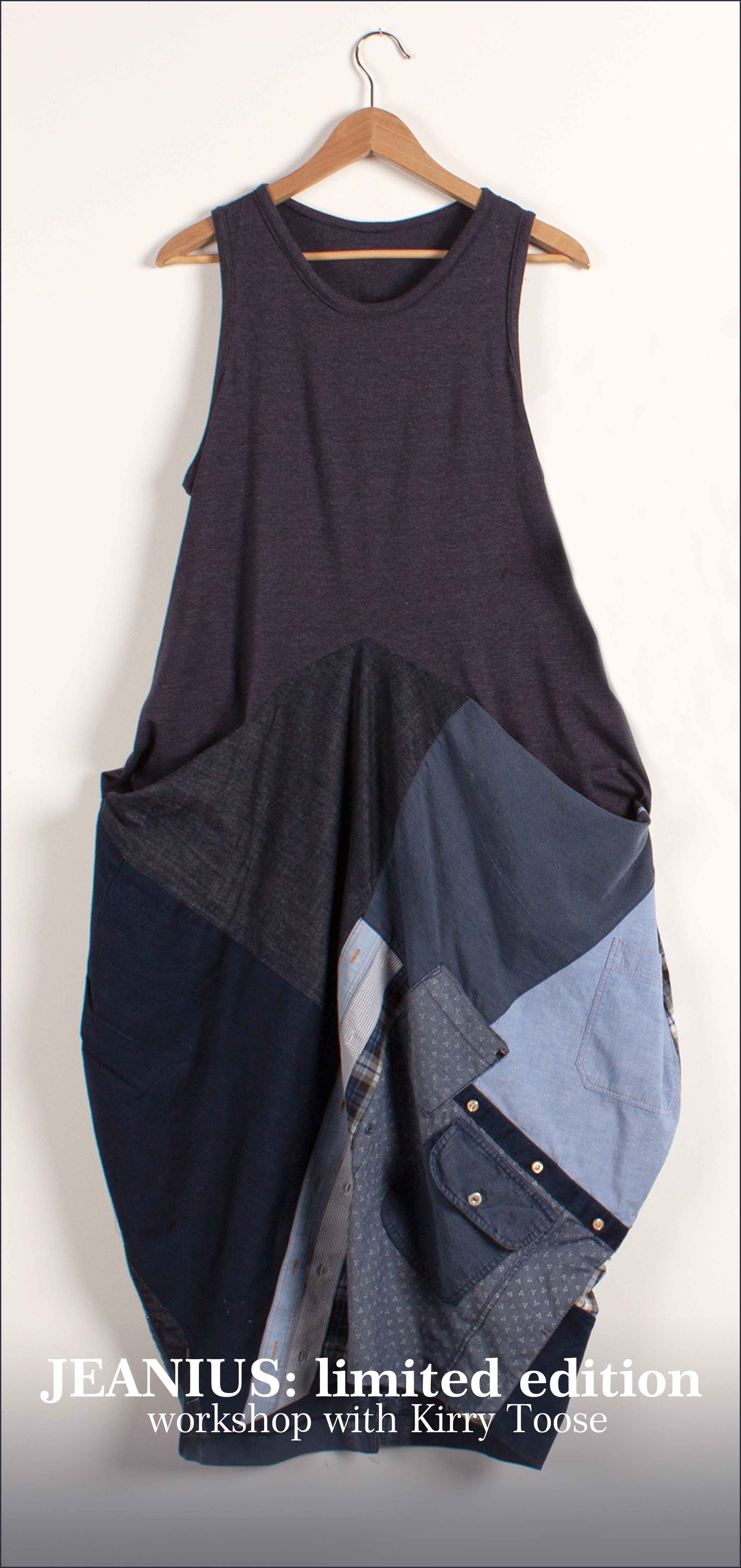 Transforming the everyday, the worn and discarded into the wearable, through the deconstruction and recycling of previously loved items.
Working with your personal themes or concepts, re-imagine your wardrobe through play, with re-cutting and assembling, embellishing, insertion and addition.
Have lots of fun by breaking the boundaries; whilst learning to problem solve through design, extending your sewing skills, exploring numerous techniques and products.
Kirry will supply each participant with her original pattern and instructions. The pattern is graded to suit all sizes. She will lead participants through the design and construction of their own unique garment, helping them follow their own creative path over the two days. Many techniques will be taught, as Kirry shares her technical and artistic skills.
Bring along treasured fabrics and garments you can't bring yourself to throw out and inject them with new life by creating this transformed garment that Kirry will guide you to construct.
Begin early, by looking in St Vincent de Pauls, Good Samaritans the Salvation Army, second hand stores even your households' wardrobes. Search for men's shirts. ties, dresses, jumpers and knitwear- whatever takes your fancy. Avoid synthetics. You'll need to buy 2.2 metres of jersey fabric for the base. As dyeing is not part of this workshop, try to coordinate colours and tones, but don't be too structured about it! Bring along these fabrics and pre-loved garments and inject them with new life by transforming them.
Kirry says "There is always a question mark as to where wearable art sits in the traditional exhibition/art area. I try to define myself on my own terms in this art genre.
My longstanding educational and practical undertaking in art wear, and subsequent installation work are optimistic in their intent and essence. The goal is towards breaking down the perceived barriers of fibre and using the body as an integral part of the installation."
Kirry Toose is a life-member of ATASDA who has worked professionally as a designer in the fashion industry and has skills in pattern drafting, fine needlework, silkscreen and photographic printing, applique and machine embroidery, all of which she employs in her garment designs.
During this time of COVID 19 ATASDA seeks to protect all those who attend its activities face-to-face by requesting evidence of full vaccination. You may send your proof of vaccination to This email address is being protected from spambots. You need JavaScript enabled to view it.
Event Details
| | |
| --- | --- |
| Date | Mon 29th Nov 2021 9:30 am |
| End Date | Tue 30th Nov 2021 4:30 pm |
| Price | ATASDA Members $180 Non-members $230 Materials Fee $10 for instruction booklet |
| Location | Marsfield Community Centre |
Workshop Information
Payment information
Materials fee
On the day
Photography
Safety
Special needs
Cancellation Policy
Pay a deposit to secure your place in a workshop as they fill quickly
The deposit of $31 for a one day workshop and $62 for a two day workshop is non-refundable
Remainder of payment is due 4 weeks before the workshop
Non-members pay a higher price for workshops so join now to get the members' rate
Non-members are not included in ballots if the demand is greater than available places
For Textile Tasters, full payment is required when you register.
Material fee to be paid directly to the tutor at the workshop.
On the day
Bring your own lunch and mug, morning and afternoon tea is provided
Please arrive early so you are unpacked and ready to start at 9.30am
Tutors finish teaching at 4pm, so everyone can help with the cleanup. Participants leave at 4.30pm each day.
Photography
We may take photographs during the workshop for use in ATASDA promotional material. If you do not want to be photographed please advise the workshop helper at sign-in.
Before taking photographs for your own records, check with the workshop helper first, as some tutors do not allow photography.
Safety
It is your responsibility to provide any personal protective and/or safety equipment required for the workshop, e.g. safety glasses, facemask, gloves. See workshop requirements list for additional items.
Special needs
Please email NSW Workshops before you book if you have special needs e.g. wheelchair access.
Cancellation Policy
If a workshop is cancelled by ATASDA your workshop fee will be refunded
Can't attend? You may be able to gift your enrolment, please contact NSW Workshops
If you cancel up to 4 weeks prior to the workshop your payments, minus the deposit, will be refunded
If you have to cancel within four weeks of the workshop due to extenuating circumstances, a partial refund may be given, please contact NSW Workshops