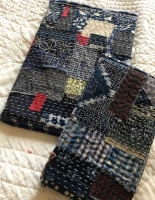 Make a Boro Book Cover!
Cathie Griffith will guide us to make our own beautiful book cover.
Cathie will bring samples, and take us step by step through the process.
Requirements List
1. A journal or book to cover.
2. A piece of light weight fabric to use as a base for our cover. I use muslin as it is easy to stitch into but bring whatever you are comfortable with. This fabric will shrink as you stitch into it and we will also need to allow for turning the edges under when finishing, so it needs to be larger than the book or journal you are covering. The fabric needs to be larger by approximately 5 cm at the top and bottom of your book/journal and and 15cm bigger at either end of your book/journal when it lies open. If you are unsure bring your backing fabric along and we can cut it to the correct size on the day.
3. This is a great project to use up scraps of fabric left over from other projects. Choose the colours you like to make your cover. The scraps can be bright, pastel or following a theme such as Japanese fabrics etc The size of the scraps is not important. Even small scraps can work.
4. Basic Sewing Kit including sharp fabric scissors, pins, needles, etc
5. Thread for tacking... machine thread is fine.
6. Threads for stitching to compliment your scraps. I like Perle 8 but you can bring any threads you like to stitch with.
8. Other items may be needed for finishing but we will discuss those on the day as we won't get it all finished in the time allocated, especially if your book is large. I will show you how I finish my books but you can finish it at home in a manner of your choice.
9. A note book and pen if you want to take notes.