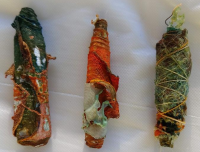 Come and enjoy meeting, creating and sharing at this social day.
Focus activities are:
1) Make a paper folded Japanese figure, taught by Robyn Cocks.
2) Make beads - heat manipulated beads, wrapped beads, wire & thread beads, felt beads, stitched beads, taught by members. If you make your own beads, please bring supplies and demonstrate your methods. Sharing our ideas and skills is inspirational.
Bring Show and Tell. Textile items to swap, sell or share are always welcome.
Visitors welcome.
Participants are asked to contribute a voluntary $5 payment for the day.
Registration is applrecaited but not essential. To cancel your registration, please This email address is being protected from spambots. You need JavaScript enabled to view it..
COVID-SAFE INFORMATION FOR THIS EVENT:
Proof of vaccination is required to enter.
There will be no restriction on numbers in each room apart from the limit set by normal operations at ECC i.e. you are limited to the number of chairs in your room.
Masks are not mandatory, but are appreciated.
QR Codes are not mandatory.
Social distancing is not mandated but it is recommended for personal safety where it is possible to do so.
Do not come to the Centre if you have any symptoms of Covid…if you have a fever, if you have a sore throat and/or cough, if you have a runny nose.
Use hand sanitiser in the foyer when you enter the building.
Continue to clean tables, chairs and items in the kitchen that have been used …sink, microwave, fridge
Don't use antiseptic wipes on fabric chairs. Use them only on hard surfaces.