Social Day 21 July - cancelled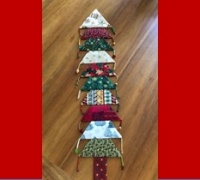 Cancelled due to COVID lock down.
Come and enjoy meeting, creating and sharing at this social day.
Christmas In July
Anne Schmitz will teach how to make this lovely Japanese style hanging Christmas decoration.
This is made of interlocking triangles of fabric which hang to form along narrow tree. Each triangle can then be embellished with beads, which hang from the triangle ends to act as the decorations on the tree.
Requirements list- (Don't worry if you don't have everything)
heavy weight iron-on interfacing about 1/2 metre
small pieces of different Christmas fabrics [11 different fabrics but we will likely all swap bits of fabric to get the different pieces]
scissors or rolling cutter
cutting mat and ruler
pencil for marking fabric
sewing machine
baking paper
metal loop for hanging the tree
beads matching the fabric: red, green, gold; varying shapes; we probably won't get to the beading on the day turning tool, artery forceps etc
Other regular details:
Bring your work-in-progress to Show & Tell to others
Textile items to swap, sell or share are always welcome.
Members are asked to contribute a voluntary $5 payment for the day.
Please register to attend. To cancel your registration, please This email address is being protected from spambots. You need JavaScript enabled to view it., so that others can attend.
Please read and understand the COVID Safe Health and Safety Plan before attending.
Event Details
| | |
| --- | --- |
| Date | Wed 21st Jul 2021 10:00 am |
| End Date | Wed 21st Jul 2021 3:00 pm |
| Register from | Fri 26th Feb 2021 |
| Location | Epping Creative Centre |