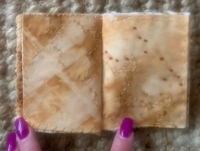 Come and enjoy meeting, creating and sharing at this social day.
Focus activity - Jen Corkish will teach how to make a book from a fabric collage, cleverly folded. Bring Show and Tell. Textile items to swap, sell or share are always welcome.
Here is a list of requirements for making the collage book.
*One A3 size or 42 1/2 x 32 1/2cm piece of crisp light or medium weight sew-in interfacing (Shapewell for example) ( this is the base of the book).
*One 20 x 12 cm piece of same interfacing for the cover. If you cannot find it contact us and Jen can bring some. Contact This email address is being protected from spambots. You need JavaScript enabled to view it. to send a message to Jen
*1m vleisofix (iron-on fusing)
*assorted light-weight fabrics you wish to feature. It uses a lot of fabric
*embroidery threads
*hand sewing needles
*paper and fabric scissors
*ironing mat if you have one
*pencil
This is a fun collage/ stitched book so bring interesting fabrics, even some of your eco or rust dyed fabrics. You will hopefully have all the college down and the book folded into shape. The embroidery will be completed in your own time
Members are asked to contribute a voluntary $5 payment for the day.
Please register to attend. To cancel your registration, please This email address is being protected from spambots. You need JavaScript enabled to view it., so that others can attend.
Please read and understand the COVID Safe Health and Safety Plan before attending.