Social Day 4 Jul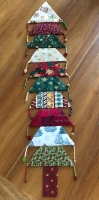 Come and enjoy meeting, creating and sharing at this social day.
Christmas In July
Bring Christmas items you have made. Show others how to make them. Textile items to swap, sell or share are always welcome.
Members are asked to contribute a voluntary $5 payment for the day.
Please register to attend. To cancel your registration, please This email address is being protected from spambots. You need JavaScript enabled to view it., so that others can attend.
Please read and understand the COVID Safe Health and Safety Plan before attending.
The focus for the day is Christmas in July.
Anne Schmitz will teach how to make this lovely Japanese Christmas decoration. Members are invited to show and demonstrate other Christmas items to make.