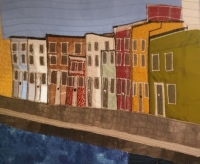 Visit the ATASDA South Group, on the south side of Sydney. Group members love sharing skills and welcoming new faces. Meetings are usually the second Saturday of the month.
ATASDA member Margaret Millar will speak on "Working to a theme or a series"
Margaret will be talking about how she begins a work to suit a set theme and her approach to working in a series - including some pro's and con's.
photo credit Margaret Millar