Wendy Bailye - Felting: Textures and Patterns in Nature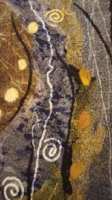 Cancelled due to COVID 19. Watch for our 2021 Workshops
This class is a process/sample -oriented workshop designed to develop your felt making skills in a playful, experimental manner.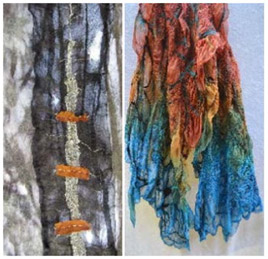 A two-day sampling workshop to explore the colours, patterns and textures in the natural world that can inspire your felt work.
This class is a process/sample -oriented workshop designed to develop your felt making skills in a playful, experimental manner. You will learn about mixing and matching fibres and fabrics and learn a multitude of techniques that extend your textural skills. We will concentrate on textural and surface decoration techniques using a variety of fabrics and fibres in interesting ways. You will go home inspired and with a great new skill set to fire your passion and creativity.
For those of who prefer projects, you can use your samples (hand stitched together perhaps!) to create something wonderful when you get home! You are guaranteed a vibrant, informative learning experience and will go home with a wonderful collection of inspirations.
You will be required to bring a collection of fibres and fabrics that you can imagine will work well together in samples. You will need approximately 500g of merino wooltops, and some small pieces of fabric such as Paj silk and fine tissue silk (approx. 50cm x 90cm), some needle felt batting, cotton quilt batting and about 1-2 metres of a mixed eclectic selection of fine weave fabrics, new or old. Details in the requirements list.
Wendy says: We will be playing, so bring what you want to play with and don't stress… of course, you can bring more or less! I am sure people will be happy to share!
Wendy Bailye is an award-winning Australian contemporary felt artisan and designer with over 25 years' experience. Working with an eclectic mix of wool fibers, fabrics, silks, threads and recycled materials, Wendy produces fibre rich artworks and art-wearables. From her home in rural Brisbane, she runs workshops as well as working on commissions and refining her personal felt making practice. She works full-time as a feltmaker. Wendy says "All artwork originates from the heart and hands of the maker."
See more at www.wendybailye.com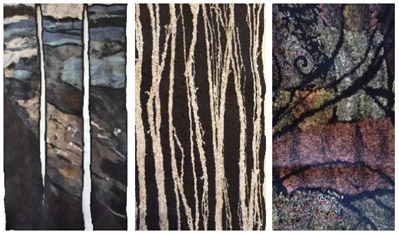 View Requirements for workshop
Have a question about this workshop? Contact This email address is being protected from spambots. You need JavaScript enabled to view it.
Event Details
| | |
| --- | --- |
| Date | Sat 23rd May 2020 9:30 am |
| End Date | Sun 24th May 2020 4:30 pm |
| Price | ATASDA members: $180 Non-member: $230 Materials Fee $20 |
| Location | Epping Creative Centre |
Workshop Information
Payment information
Materials fee
On the day
Photography
Safety
Special needs
Cancellation Policy
Pay a deposit to secure your place in a workshop as they fill quickly
The deposit of $31 for a one day workshop and $62 for a two day workshop is non-refundable
Remainder of payment is due 4 weeks before the workshop
Non-members pay a higher price for workshops so join now to get the members' rate
Non-members are not included in ballots if the demand is greater than available places
For Textile Tasters, full payment is required when you register.
Material fee to be paid directly to the tutor at the workshop.
On the day
Bring your own lunch and mug, morning and afternoon tea is provided
Please arrive early so you are unpacked and ready to start at 9.30am
Tutors finish teaching at 4pm, so everyone can help with the cleanup. Participants leave at 4.30pm each day.
Photography
We may take photographs during the workshop for use in ATASDA promotional material. If you do not want to be photographed please advise the workshop helper at sign-in.
Before taking photographs for your own records, check with the workshop helper first, as some tutors do not allow photography.
Safety
It is your responsibility to provide any personal protective and/or safety equipment required for the workshop, e.g. safety glasses, facemask, gloves. See workshop requirements list for additional items.
Special needs
Please email NSW Workshops before you book if you have special needs e.g. wheelchair access.
Cancellation Policy
If a workshop is cancelled by ATASDA your workshop fee will be refunded
Can't attend? You may be able to gift your enrolment, please contact NSW Workshops
If you cancel up to 4 weeks prior to the workshop your payments, minus the deposit, will be refunded
If you have to cancel within four weeks of the workshop due to extenuating circumstances, a partial refund may be given, please contact NSW Workshops