Judy Wilford - Embroidered Landscapes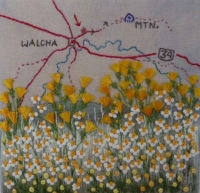 In Embroidered Landscapes Judy shares her layering and stitching techniques, developed over many years, which will give embroidered work depth, distance and create a
sense of the play of light inherent in low relief work.
The finished 12cm x 12cm landscape will be brimming with exciting texture and you will learn techniques you will want to use in the future. Bring your landscape to life using the wonderful media of fabric and thread.
Learn techniques of layering and surface stitch that Judy has developed over many years to create embroidered landscapes. This structured workshop requires the preparation of an embroidery frame, according to Judy's instructions, before you arrive, and some homework so that you keep up with the processes taught on the second day.
Judy will supply the design. You will have opportunities to change both the flora and fauna as the workshop progresses. There will be 14 layers of fabric, with an overlay of silk organza, followed by surface stitching, to add brilliance and depth to your landscape.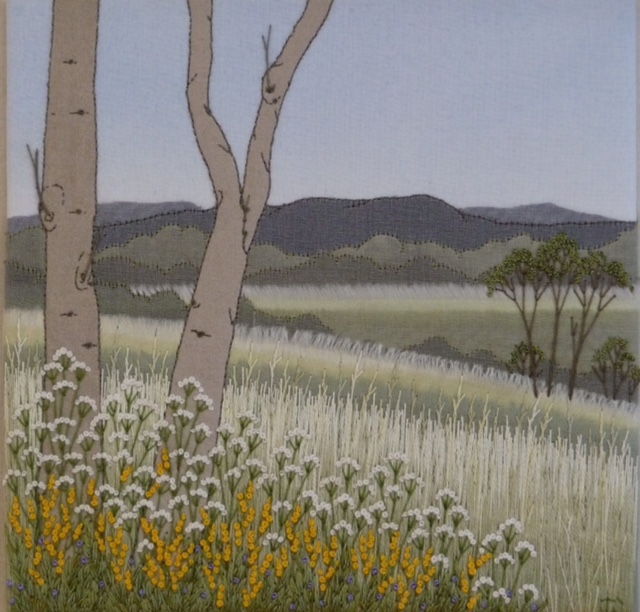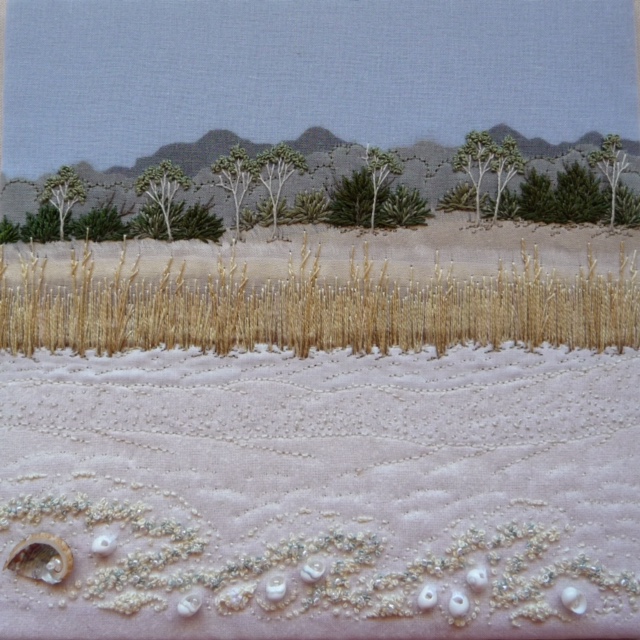 Judy Wilford is an accomplished textile artist, recipient of a Churchill Fellowship, and renowned teacher and researcher. She has used traditional and contemporary stitching techniques to develop her own embroidering style over many years which captures the depth, detail and light of Australian landscape through the media of fabric and thread.
Event Details
| | |
| --- | --- |
| Date | Sat 30th Oct 2021 9:30 am |
| End Date | Sun 31st Oct 2021 4:30 pm |
| Register from | Sat 6th Mar 2021 |
| Cut off date | Sat 16th Oct 2021 |
| Price | ATASDA Members $180 Non-members $230 Materials Fee $20 |
| Location | Epping Creative Centre |
Workshop Information
Payment information
Materials fee
On the day
Photography
Safety
Special needs
Cancellation Policy
Pay a deposit to secure your place in a workshop as they fill quickly
The deposit of $31 for a one day workshop and $62 for a two day workshop is non-refundable
Remainder of payment is due 4 weeks before the workshop
Non-members pay a higher price for workshops so join now to get the members' rate
Non-members are not included in ballots if the demand is greater than available places
For Textile Tasters, full payment is required when you register.
Material fee to be paid directly to the tutor at the workshop.
On the day
Bring your own lunch and mug, morning and afternoon tea is provided
Please arrive early so you are unpacked and ready to start at 9.30am
Tutors finish teaching at 4pm, so everyone can help with the cleanup. Participants leave at 4.30pm each day.
Photography
We may take photographs during the workshop for use in ATASDA promotional material. If you do not want to be photographed please advise the workshop helper at sign-in.
Before taking photographs for your own records, check with the workshop helper first, as some tutors do not allow photography.
Safety
It is your responsibility to provide any personal protective and/or safety equipment required for the workshop, e.g. safety glasses, facemask, gloves. See workshop requirements list for additional items.
Special needs
Please email NSW Workshops before you book if you have special needs e.g. wheelchair access.
Cancellation Policy
If a workshop is cancelled by ATASDA your workshop fee will be refunded
Can't attend? You may be able to gift your enrolment, please contact NSW Workshops
If you cancel up to 4 weeks prior to the workshop your payments, minus the deposit, will be refunded
If you have to cancel within four weeks of the workshop due to extenuating circumstances, a partial refund may be given, please contact NSW Workshops