Eco Dyeing Mixed Media Workshop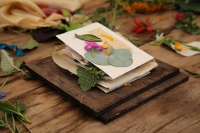 Learn from Wendi Trulson and Liz Horrigan as they guide participants through the eco dyeing process, producing colour and imprint from leaves and flowers onto watercolour paper. The results are some wonderful imagery and surface design effects.
Once the eco printed paper is dried (with a little help from a hair dryer), Liz will guide you through the process using pen & colour to bring your eco printed paper to a new level. Please bring your Enthusiasm & Imagination.
The Water Colour Paper will be supplied
You will need to bring
Fine- Line Pen Waterproof 0.1mm to 0.4 mm (black)
Coloured Pencils (Liz uses Aquarelles)
Watercolours or Acrylic (no oils)
Assorted Paint Brushes
and /or Patel's, Ink, Ink pens whatever you are comfortable using