Scenic Rim Group 26 Mar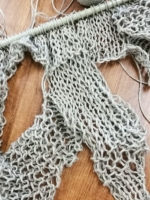 Women of the Cloth is the ATASDA Scenic Rim Group which meets on the fourth Friday of each month except December. Doors open at 9.30 for a 10am start. BYO lunch.
The group is open to new members who live in the area. Its mission is to give a sense of community and encouragement to members; to share ideas, dreams and values with the group and the wider community; to learn and share new techniques and work actively to further their textile arts practise.
The focus activity is making for the Warwick Jumpers and Jazz in July Tree Jumper entry. So bring along your crochet, knitting, weaving and ideas for little creatures. Neutral / Natural tones and natural fibers if possible.
For those making the "tsuno bukuro" or horn bag with Wendi bring your work base along for show and tell.
For further enquiries, send an email to Wendi Trulson, the This email address is being protected from spambots. You need JavaScript enabled to view it.