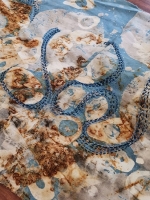 Women of the Cloth is the ATASDA Scenic Rim Group which meets on the fourth Friday of each month except December. Doors open at 9.30 for a 10am start. BYO lunch.
The group is open to new members who live in the area. Its mission is to give a sense of community and encouragement to members; to share ideas, dreams and values with the group and the wider community; to learn and share new techniques and work actively to further their textile arts practise.
Barbara will lead a Mini Maker Session- Five Stitches.
Cost to participate in the session is $10 cash to the tutor. Barbara is a font of knowledge.
For further enquiries, send an email to Wendi Trulson, the This email address is being protected from spambots. You need JavaScript enabled to view it.