NSW Exhibition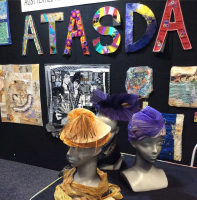 Cancelled due to COVID-19
ATASDA is on display once again at the Craft & Quilt Fair, Sydney. Come and meet members and see what they do.
Members are currently creating to the theme "REGENERATE".
The long-awaited biennial ATASDA exhibition, Interlude, is on!
Come and see new and original textile art works in the latest exhibition from members of Australian Textile Arts and Surface Design Association Inc. ATASDA members have explored the theme Interlude using unusual materials,coupled with traditional textile techniques, to take the visitor on a journey.
Wednesday 28th July to Sunday 15th August, 2021