NSW Workshop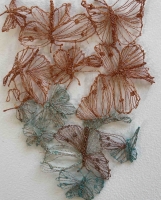 Join Sharon in this exploration of fungi, lichen and feathers using free machine embroidery on water-soluble fabric.
Using metal threads, metallic organza, netting and fabrics that will give a lace-like quality to your textiles discover the endless possibilities of machine stitch on solvy to create beautiful lacy fabric.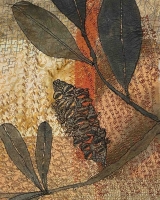 One day workshop.
Would you like to explore the decorative stitches on your sewing machine? If so this is the workshop for you!
Wilma will also inspire you and show you how to create wonderful whole cloth backgrounds, as well as techniques using paper, fabric and other mixed media for a surface layer.
This workshop will also challenge you to experiment with pattern and colour contrasts and harmony.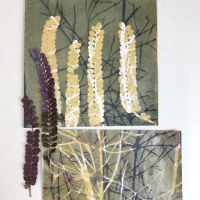 This 2 day workshop explores how to create a series of collage based artworks that combines elements to give a sense of place. Participants are invited to bring a handful of reference images of a place they have visited, or is special to them, that will serve as starting points.
Image credit: Tara Axford & students from Tara's previous workshops